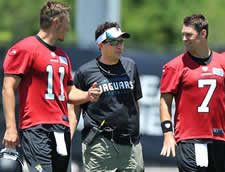 Jacksonville Jaguars quarterback Blaine Gabbert was back on the practice field today with a noticeable ankle wrap according to reports. Gabbert was carted off on Monday after spraining his ankle in practice. The injury looked pretty serious but later analysis revealed that the third-year quarterback could be back as early as today. That proved to be true.
It's a good thing that the injury to Gabbert didn't cause him to miss any more significant time, because he is in a tight competition with Chad Henne for the starting position. As of now, Gabbert is the starter. But Henne played the final six games last season when Gabbert was out with a forearm injury.
Gabbert was not expected to compete in a full practice on Wednesday, so it's likely that Henne, along with Mike Kafka and Matt Scott will see the majority of the reps for the day. Jacksonville wants to be careful in bringing Gabbert back, so some hours in the training room with ice and therapy might be what the young quarterback experiences for the majority of this week.
The Jaguars open their 2013 preseason schedule against the Miami Dolphins on Friday, August 9. The regular season kicks off on Sunday September 8 at home against the Kansas City Chiefs.
Jacksonville Jaguars 2013 Schedule