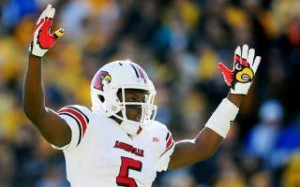 Often athletes will take out an insurance policy in case of an injury that would render them unable to play. In the case of Louisville Cardinals quarterback Teddy Bridgewater that amount is $10 million.
Bridgewater had his coming out party in the 2013 Sugar Bowl against the Florida Gators when his Cardinals pulled off the shocking upset in dominant fashion. The win put Bridgewater on the national map, and already has analysts talking about the Heisman Trophy and the 2014 NFL Draft as the top quarterback prospect.
Bridgewater's production increased exponentially from 2011 to 2012, where he threw for 27 touchdowns to just eight interceptions last season. He passed for more than 3,700 yards and completed close to 70 percent of his passes.
Louisville is picked by the media to win the American Athletic Conference in 2013, formerly known as the Big East conference. Bridgewater has an awful lot to do with the media picking the Cardinals as the team to beat.
Bridgewater has put a ton of time and dedication to improving this offseason, even engaging in a boxing routine to work on his footwork both inside the pocket and on the run. The Louisville quarterback has been watching fights of Mike Tyson, according to an ESPN.com report.
Louisville opens up their 2013 schedule on Sunday, September 1st against Ohio.