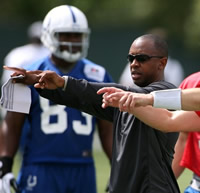 Success often breeds opportunity, and in the NFL it's sometimes difficult to keep success together. Such is the case for the Indianapolis Colts heading into the 2013 NFL Season. With the departure of offensive coordinator Bruce Arians to Arizona, new offensive coordinator Pep Hamilton steps in to fill the shoes left behind. But if you ask Indianapolis quarterback Andrew Luck, the Colts shouldn't miss a beat. After all, Hamilton was the offensive coordinator for Luck during his last season at Stanford in 2011.
After winning just two games in the 2011 season, the Colts wound up with Luck with the No.1 pick in the 2012 NFL Draft. One year later, the Colts won eight more games and made the playoffs. This has created expectations for the 2013 season.
But with a new offensive system, things will certainly be different in training camp with much to learn and grasp in Hamilton's system.
"Old, new, whatever works," Luck said to the media after the first day of training camp at Anderson University. "Hopefully, this offense works for us. I think it will. I've got a lot of confidence. There's a bit of an old-school mentality of you got to be able to run the ball and play-action hopefully comes from that. Whatever works, and hopefully it works for us."
The team is buying into the new offense, and with training camp now underway they can really get into the nuts and bolts going forward. It will be interesting to see how Luck does in his first season. It wasn't all roses despite the great turnaround. The rookie QB did throw 18 interceptions. But then again, guy named Peyton Manning threw 28 interceptions in his rookie season with Indianapolis.
Team Offensive Rankings – 2012