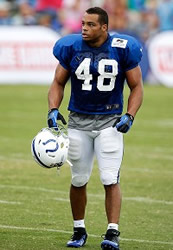 The Indianapolis Colts have brought in Josh McNary, a former Army Lieutenant and the Army's career sack leader, to compete for a spot on the roster for the 2013 NFL season.
McNary was a graduate from West Point in 2011, having put up the highest sack total (28) and tackles for loss (49) in the history of the program. After serving in the Army for two years following his graduation from West Point, the Colts signed him to a free-agent contract on April 10th, 2013.
With Indianapolis trying to rebuild on the front line, McNary will have a real shot at competing for a spot on the Colts' roster during training camp, which got underway last week.
The need to find a pass rusher was evident in the fact that Indianapolis drafted Bjoern Werner from Florida State in the first round. Werner is a great pass rusher from the outside and can really get after the quarterback. Indianapolis is hoping that McNary can provide some extra competition in that department as well.
The Colts lost defensive end Dwight Freeney to free agency this offseason. Freeney is now with the San Diego Chargers. This left a big gap in production off the end, for which McNary will be one of the prime contenders for a position in the rotation on the defense. And even outside of that, Robert Mathis is moving positions to compensate for Freeney's absence, which will leave his position open.