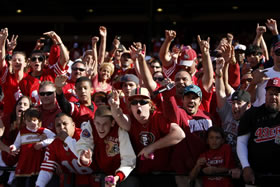 The advance in technology is not confined to a specific area, and that has never been more true than in the case of sporting arenas. For the San Francisco 49ers' new stadium, scheduled to be open by the 2014 season and actually host Super Bowl L in 2016, it certainly epitomizes this notion.
In an effort to make the experience at the game in the 49ers' stadium as pleasant as possible, Rand Getlin of Yahoo Sports tweeted that there is a new mobile application that has been developed to chart the shortest and quickest lines for both concessions and bathrooms within the stadium. Certainly one of the biggest complaints about attending live games, especially those in the NFL, centers on situations like this.
Technology in the 49ers new stadium is amazing. Will have an app that allows you to find the shortest beer lines. Mind blown.
— Rand Getlin (@Rand_Getlin) July 27, 2013
App will work for food & bathroom lines. Will play replays, your choice of angle. Stadium WiFi lets you stream NFL Redzone from your seat.

— Rand Getlin (@Rand_Getlin) July 27, 2013
The goal of the new mobile application is to help alleviate some of the inconvenience that fans come into contact with in their trips to grabs snacks or to go to the bathroom. Patrons will be able to connect into the Wi-Fi that is offered for free at the stadium and view the map that is available with the information.
Outside of this, fans can also connect into NFL Redzone through stadium Wi-Fi as well. Redzone has become increasingly popular with fantasy football, for which the NFL believes can drive down attendance. The goal is to increase attendance and the fan experience at the game. It's likely that other stadiums could adopt this kind of a program as well.