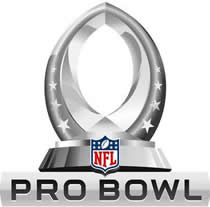 The Pro Bowl of the past is going to look nothing like the Pro Bowl of the future in the NFL. The latest changes to the NFL All-star game were released on Wednesday afternoon, with some considerable changes to the format, as well as the way that the two teams will be determined.
The most noteworthy change comes in how the teams will be determined. No longer will the teams be made up of the AFC versus the NFC. There will be a draft with captains, reminiscent of playground football as kids. The captains will be determined by the top-two players who received the most votes for the selection process. From there, they will pick teams with the aide of Deion Sanders and Jerry Rice, along with two of NFL.com's Fantasy Football champions. That gives two ordinary fans the chance to get in on the Pro Bowl action.
The move to this new draft format is a dramatic change, but it's not the only one. The Pro Bowl game will no longer feature kickoffs, as the ball will be spotted at the 25-yard-line after a scoring play. This eliminates a kick returner Pro Bowl spot, and instead will add an additional defensive back position. Those aren't the only changes to take place either.
The changes were made in conjunction with the NFL and the NFL Players Association. The first Pro Bowl draft will be held on January 22nd, 2014, as the game will be played at Aloha Stadium in Hawaii once again.
Best Pro Bowl Moment Ever